Recorded services can be viewed on the Ipswich and East United Reformed Churches YouTube channel by clicking here.
Live streamed Sunday Worship can be viewed by clicking here.
Welcome!
UPCOMING EVENTS
JUBILATION
On Friday 20 May and Saturday 21 May, CHAPS are presenting a fun variety show to celebrate the Queen's 70 year reign in aid of Headway.
More information available here.
LIVE WORSHIP CONTINUES
All restrictions affecting Sunday Worship have been lifted but we ask for your support in maintaining a Covid Safe environment.
The seating remains spaced well apart such that no more than 60 members of the congregation can be accommodated. Please do not arrive before 10.15am and go directly to your seat.
The Elders are now proposing that the requirement to wear a face covering during Worship is relaxed. However we appreciate that some of the congregation will want to continue wearing a face covering and suggest that they sit at the rear of the Church leaving promptly after the Service and those without face coverings sit towards the front of the Church. Carbon Dioxide levels will be monitored during the Service. If you are feeling unwell please do not attend Sunday Worship.
Recorded Weekly Services are continuing to be available from the 'link' as above.
Please visit the Services page for more details.
Castle Hill United Reformed Church, Ipswich is a modern, lively church located in the centre of Castle Hill, Henley Rise and on the doorstep of Whitton. The church was established in 1957 and its unique "tent-like" design and concrete construction is classified as Grade 2 listed.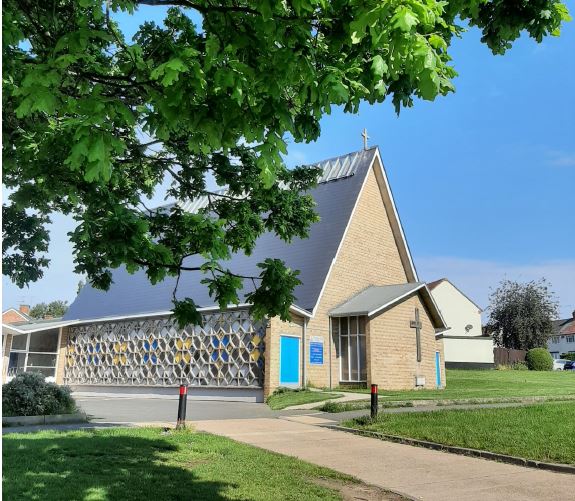 Castle Hill Church is part of the United Reformed Church. It is an active church with room for up to 150 people to attend the regular Sunday family worship, as well as a Sunday Club for children.
The church is part of the Ipswich and East Pastorate comprising Castle Hill, Felixstowe, Saxmundham and St. John's United Reformed Churches and has an active twinship with a church in Mussbach, Germany that results in annual exchange visits for family and youth groups.
Please take time to browse our website and if you would like to visit us for one of our services you can be assured of a warm welcome. There are no strangers at Castle Hill - only friends.
Family Worship is held every Sunday at 10.30 am. Please see the Services page for full details.